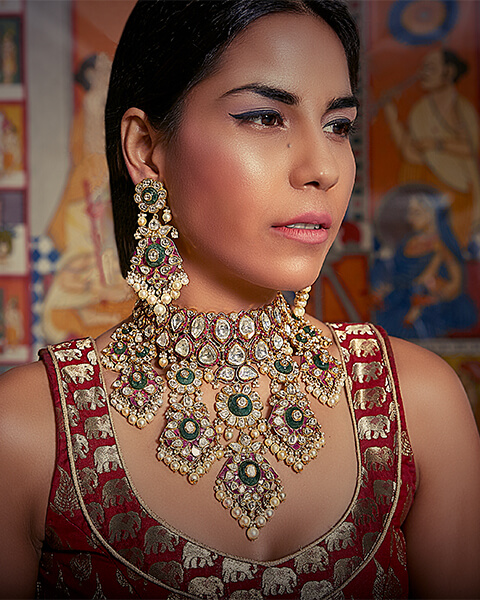 The brand stands for the legacy that has been passed down over 4 generations, each one passing down its essence to the next generation which in turn evolves to add its own fervor thereby growing into a unique family matrix.
Staying true to its name, in its launch year 'the legacy of Amolya' begins by celebrating the concept of 'priceless-ness'. Since there is nothing better that could represent 'Amolya' than 'the gift of life' itself 'The legacy of Amolya' kick starts for priceless jewelry collections that represent the 4 elements of nature that make 'life' possible on this beautiful and unique planet Earth. .one of its kind in the whole universe.
Nazaqat Jadau Jewellery
Presenting Nazaqat Jadau Jewellery: Bikaneri Jadau Jewellery from the house of Rosentiques.

After successfully establishing ourselves in the category of Mukhlasi, Diamonds and Platinum, we now step into a different segment: 'Traditional Bikaneri Jadau Jewellery'.

Nazaqat's USP is 'impeccable design combined with extremely intricate work, created with the utmost precision'.

We aim to create valuable products and leverage innovation in order to reach new heights and set bigger goals.

Rosentiques' Nazaqat is a spectacular newness in Jadau Jewellery to add richness to your life.